OUR Jobs
Send us your CV: they are welcome and we are confidential so we won't tell your Boss and while you are waiting send it to This email address is being protected from spambots. You need JavaScript enabled to view it. CVs in English and Latvian!
Work on new job offers is always in progress. Check back soon for more detailed information on available jobs.
Statement:
Working with PRIME Recruitment means you apply to a company in business from 1999, tracking back to 1995.
Our clients work according to the Law and also respect the individual when it comes to what is agreed which should mean that you get your salary on time and as agreed if you have done your part.
We also have to follow the Law and its intentions and what it allows and does not allow us under the permit. This means we cannot recruit non-EU citizens for full-time jobs in Latvia nor elsewhere.Additionally to this, I have tried and failed to convince EU employers about non-EU, and Latvian aliens to be taken on. The paper work and costs involved to clear each individual and local legislation to each country prevents this. We cannot fight wind-mills and have no resources to combat reality! I myself was born in the Far East, so no prejudices!
Thank you for reading this! WELCOME to PRIME Recruitment, Riga.
Send your CV to
This email address is being protected from spambots. You need JavaScript enabled to view it.
NEW JOBS
Industry
Position
Company
Requirements
Deadline
Ref. No.
Advert
Location
OTHER
Extra Info

NEW / COMING POSITIONS


Electrical Installers
EU Citizenship
LV__1153-3

Malta

HVAC
EU Citizenship
K 1153-2

Malta

Pipe Fitters / Plumber
EU Sitizenship
K 1153-1

Malta

Curtain Wall Fitters & Window worker

BeNeLux

Ship Pipe Fitters

K 1137

BeNeLux

Carpenters

K 1137-4

BeNeLux

Master Welders
1137-3

BeNeLux

Waiters, kitchen helpers & other staff

EU Citizenship
K1016-1

Kitchen-helpers/ Seasoned Chefs are paid more, negotiable!

IDEALLY German speaker, but qualification overrides!:)

Germany

The salary is 10 -13 EUR gross / hr and up to 173 hrs per month approximately

EVG/STIHL/SIEMENS/MEP Operators
EU citizenship.
K1137-2

BeNeLux

Prefab Welders
EU citizenship.
K 1137-3

BeNeLux

Talented Electricians

Talented Electricians

EU citizenship.
K-1135-2

BeNeLux

Talented Electricians

Talented Electricians

EU citizenship.
K-1135-1

BeNeLux
Automotive / Repairs
Mechanic

Mechanic in Norwegian tyres company

K1108-2


Norway

Electrician
Electrician

Requirements: A diploma in Electrical Engineering and/or at least 5 years experience.

Basic English or fluency in either Russian, Polish, Romanian, Latvian, Lithuanian or Estonian. Swedish is preferred and can expect a higher pay.

EU citizenship only

K 1133-1-ElSE-1-1__ENG02
Sweden
Production
CNC Operator (Siemens, Spinner, DMG Mori)

CNC Operator (Siemens, Spinner, DMG Mori)

K370-15-1D


Germany

Hospitality
HORECA

Prestigious Boarding School in UK

Placement:

K-1015

LV ENG RU

United
Kingdom

POSITIONS FILLED / CONCLUDED


Production
Sales Manager Extra Ordinaire


Latvian EU citizenship
K 6053- 15

Riga, Latvia

Chief Accountant

K6053-1

Riga

Car Mechanic

Norway

Electro Welder

BeNeLux

Concrete Floor Polisher (position created)

BeNeLux

HoReCa Two student Kitchen helpers,1 Assistant, Chef 1 Waiter Germany

Germany

Accountants Latvia

Latvia

Key Account Sales Manager

Latvia

Production – Foodstuffs
Production Supervisor
Concluded

Language: decent English . Country: in the EU. EU citizenship only.

K-856-1

EU
Maintenance electrician

Production

K-1126-6UR


Belgium
Logistics
Country Manager, Sales Manager, Forwarder
International firm
AirFreight & Sea Freight current competence
October 2018
K-605
Process concluded
Riga
Relevant experience,
Documented results
Construction
Administrative Manager
PK Serviss
Logistics

Chief Accountant International Logistics


International Logistics company
Language requirements: Latvian, English, Russian

Details TBA

Hospitality

Front Desk Personnel


International chain, well-established
Language requirements: Latvian, English, Russian
Hospitality

Hotel Manager


International chain, well-established
Language requirements: Latvian, English, Russian
Hospitality

Corporate Sales Representative


International chain, well-established
Language requirements: Latvian, English, Russian
HORECA



Sales Director HORECA – Baltics




Services

Chief Accountant with Finance mgr's duties



- Finance Education

- Computerized accounting skills

- English, Latvian, Russian

- Positive attitude

- Dedication

- Team spirit!

FILLED
K 805- 1


This email address is being protected from spambots. You need JavaScript enabled to view it.

K 805-1 LV


K 805-1 ENG

Riga
Candidate HUNT applies
10+ years experience, Engl, Lv & Ru
Construction
Būvdarbu vadītājs
STOCKHOLM LARGER


PK Serviss
Civ Eng, ENGLISH-speaking Latvian citizen. Certificates not needed!

FILLED

K 18 - 101


This email address is being protected from spambots. You need JavaScript enabled to view it.

K 18-101-1-PR-1-LVK 18-101-1-PR-1-EN

Stockholm, Riga
NEW



Candidate Hunt w REWARD for right person


The client will provide courses in Swedish





Picture1
Picture2
(Copyright:Bo Lundberg)
Picture3
Picture4
Picture5
Picture6
Picture7
Picture8




Production Manager
FILLED
K 538-1


This email address is being protected from spambots. You need JavaScript enabled to view it.

Latvia, Olaine
General Manager
Services industry
FILLED
K 528- 3


This email address is being protected from spambots. You need JavaScript enabled to view it.

International in Riga
FILLED
Tin roof layer
Skārdnieks/Jumiķis

PK Serviss

FILLED



K 18-100-Sk-PR-1


This email address is being protected from spambots. You need JavaScript enabled to view it.

Pinki, Latvia
FILLED
Credit Analyst
Euler Hermes
FILLED
K 525-1


This email address is being protected from spambots. You need JavaScript enabled to view it.

FILLED

Chief accountant

Sodra Mežs SIA
FILLED
K 815-9-ChAcc-PR-1


This email address is being protected from spambots. You need JavaScript enabled to view it.

Riga, Latvia
FILLED

Senior Programmer / CIO, Chief Information Officer
See the advert
FILLED
K 521-2


This email address is being protected from spambots. You need JavaScript enabled to view it.

FILLED
FILLED
Senior Programmer / Product Manager
See the advert
FILLED
K 521-1


This email address is being protected from spambots. You need JavaScript enabled to view it.

FILLED
FILLED
Production Development Associate

MSS SIA
FILLED
Feb 2015

K 535-1


This email address is being protected from spambots. You need JavaScript enabled to view it.

Olaine
FILLED

Candidate HUNT:
Do you know someone who fits? –Whom you trust? -Then send us this person's details and C V in local language, and if your candidate WINS the position, for our client now or later through us, you will be rewarded with a ''Romantic Dinner for Two'' with one of our partner restaurants.
See here for list of previous winners!

ADVERTS
Chief Accountant with Finance mgr's duties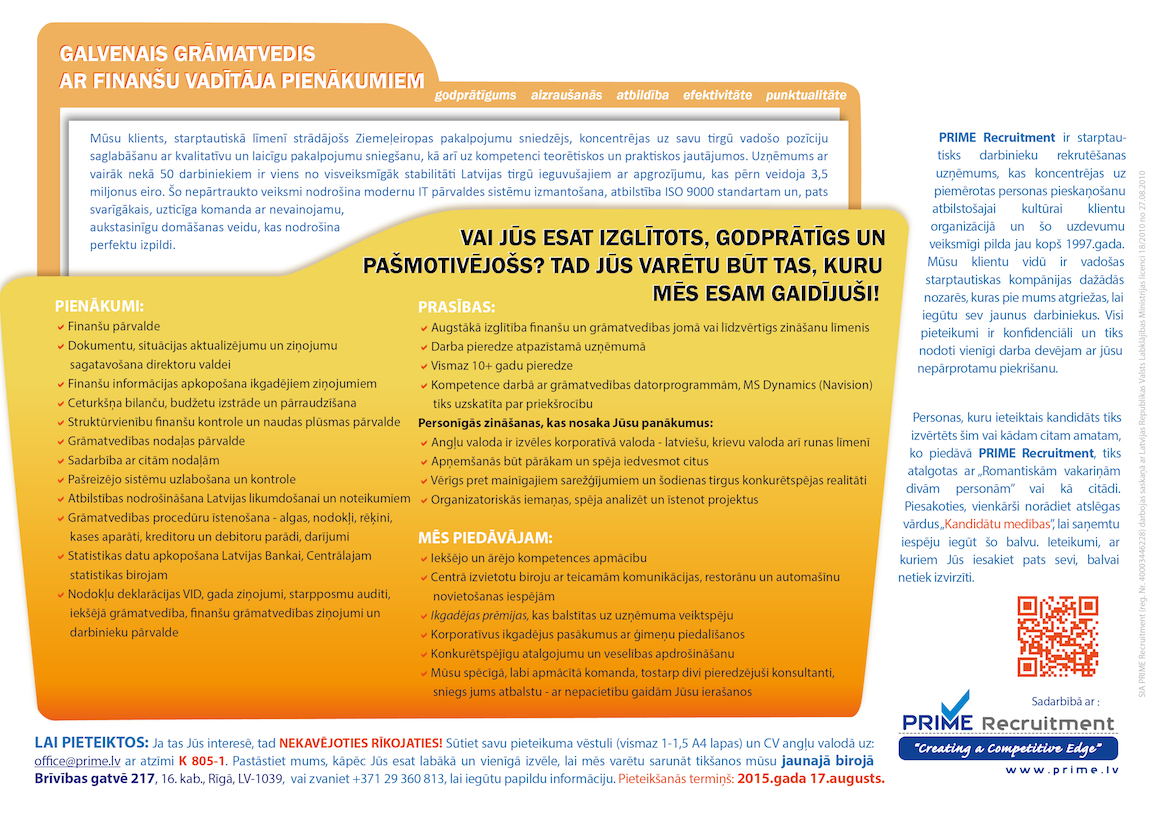 Research Analyst (FINNISH & Swedish)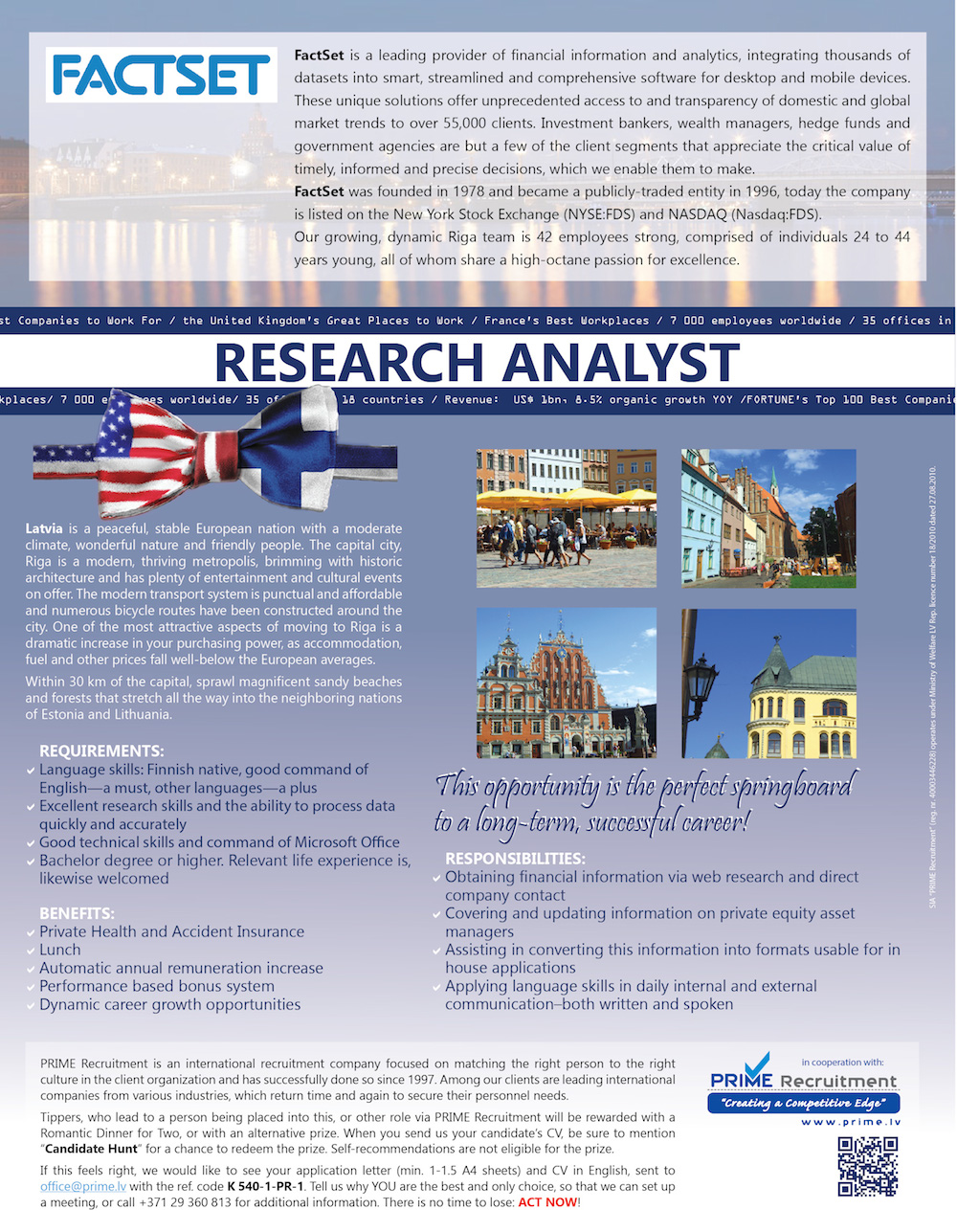 Būvdarbu vadītājs
STOCKHOLM LARGER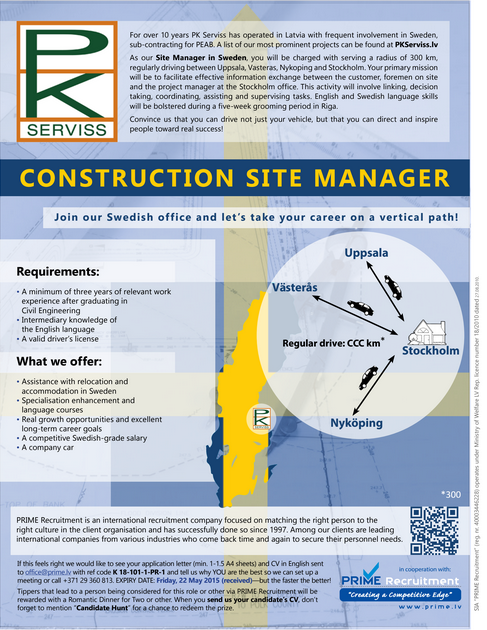 Other
Advertisement coming, if you anyway wish to apply EARLY send a cv in English to This email address is being protected from spambots. You need JavaScript enabled to view it.

'SECRET' JOBS
Certain jobs are not listed for confidentiality reasons. We regularly need MD's, Chief Accountants
and Production specialists of all types. Looking for honest, bright, hard-working people with language abilities,
who would want to go the extra mile to achieve further development.
K 1001-CYPR-1